Maintaining Aotearoa New Zealand's clean, green, and pristine image is becoming increasingly challenging due to ecological issues caused by climate change and human activity. In Wānaka, the passionate group at WAI Wānaka aims to safeguard and enhance water quality, ecosystem function, and biodiversity in the Upper Clutha Catchment. WAI work closely with individuals, community groups, iwi, landowners, and businesses to build healthy ecosystems and support community wellbeing. This case study explores how WAI Wānaka and EAS collaborated to develop a comprehensive monitoring system of key environmental and social indicators to provide a continuous update of the Upper Clutha catchment health status.
Understanding and preserving the catchment
Wānaka is situated in a large water catchment area that faces numerous challenges, including a lack of understanding about its overall health, limited community engagement, and a disconnected approach to conservation efforts. Despite having data from various sources, the information on different health indicators was scattered and not effectively consolidated.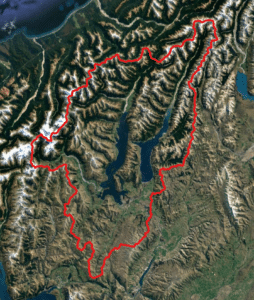 How EAS helped: A collaborative approach
Collaborating for success
Crucial stakeholders, such as the Otago Regional Council, Queenstown Lakes District Council, Department of Conservation, NIWA, and Lake Wanaka Tourism, were involved throughout the process. This ensured that the solution aligned with the needs of all stakeholders, promoting a unified and effective approach to conservation.
Tailored solutions for catchment-wide monitoring
Based on feedback and input, EAS assisted WAI Wānaka in designing and implementing a program that catered to these needs, including planning for a catchment-wide monitoring system. An example summary of the predator control activity data occurring within the catchment area over the last three years can be seen in the below figure.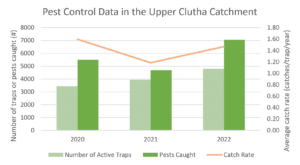 The Result: Empowering Stakeholders and Building Progress
The solutions provided by EAS brought ongoing value by facilitating better monitoring of the catchment's environmental, social, and economic health. The catchment-wide monitoring system allowed for a comprehensive understanding of the health of the waterways and ecosystems in the Upper Clutha catchment. It helped identify areas of concern, assess the impact of ongoing conservation efforts, and direct resources where they were most needed.
What's Next: Helping communities and embracing technology
The collaboration between EAS and WAI Wānaka continues to evolve. Currently, the team is working on designing and developing a web-based platform to make the State of Catchment Health report more widely accessible to residents and visitors. This platform will serve as a valuable tool to raise awareness about the importance of preserving and improving the region's waterways, engaging the community further in their conservation efforts.
Furthermore, the continued collaboration between the different organisations and stakeholders will allow for ongoing monitoring and adaptive management strategies. As new data becomes available and technologies advance, the catchment-wide monitoring system will continuously evolve to ensure the most up-to-date and accurate information is available.
A partnership for success
Prue Kane, Programmes Manager at WAI Wānaka, spoke about their experience working with EAS: "The collaboration with EAS has been instrumental in understanding and quantifying the health of our catchment. They have helped us in creating a central repository for data collection and reporting, allowing us to communicate the state of our catchment health consistently. EAS's expertise and dedication have been invaluable in achieving our goals."
Conclusion: A model for environmental conservation
By pioneering a holistic approach to environmental monitoring and community engagement, WAI Wānaka exemplifies the positive impact that collaboration between passionate community groups and expert organisations like EAS can have on environmental conservation efforts. The catchment-wide monitoring system developed by WAI Wānaka and EAS will continue to serve as a valuable tool for assessing the health of the waterways and guiding conservation efforts in the Upper Clutha Catchment.