Bass Coast Shire Council has been actively advocating for climate change mitigation. In 2019, they declared a climate emergency and created a comprehensive Climate Change Action Plan. This plan aims to achieve net-zero emissions by 2030 through innovative approaches to carbon sequestration and ecosystem restoration. Environmental Accounting Services (EAS) had the privilege of working alongside HWL Ebsworth Lawyers to help turn these ambitions into a reality. Recognising the urgent nature of climate change, Bass Coast Shire Council's decision, along with emission reduction efforts, align with global efforts to address this critical issue.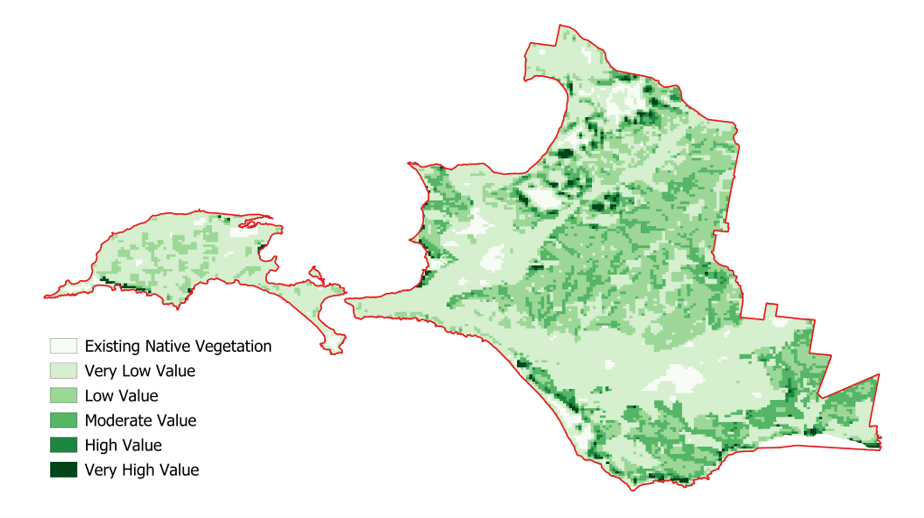 Goals: leveraging nature-based solutions
The Council sought to mitigate the impacts of climate change and drive carbon drawdown across the shire by leveraging nature-based solutions. The project aimed to establish an environment fund for accelerating habitat restoration on public and private land, whilst delivering co-benefits for flora and fauna, landscape amenity, and climate.
The solution: a multi-faceted approach
A multifaceted approach was provided encompassing the following:
Carbon sequestration opportunities: EAS described and quantified the carbon sequestration opportunities across the region in relation to projects eligible under the ACCU Scheme. An example can be seen in the figure below showing the annual sequestration rate for five example blocks of land within the Bass Coast.
Biodiversity assessment: EAS assessed the biodiversity potential of areas in the Bass Coast Shire in relation to the eligibility of projects under the Victorian Native Vegetation Offset (NVO) scheme and in relation to the improvement in biodiversity through revegetation (see figure below).
Decision-making framework: We provided a decision-making framework to guide investment and to provide a structured approach to making informed decisions, considering both carbon and biodiversity benefits. This framework determines the pathway towards generating potential income for the Environment Fund when evaluating a particular parcel of land in the Bass Coast region.
Cost-benefit analysis: We conducted a cost-benefit analysis of different scenarios of both carbon sequestration projects under the ACCU Scheme and biodiversity projects under the NVO scheme.
The results: delivering environmental and social benefits
Our work resulted in presenting the carbon sequestration potential for the region, including the identification of areas for an ACCU Scheme project to maximise the benefit of both carbon sequestration and biodiversity enhancement. Additionally, we provided a decision-making framework to guide investment and determine the most promising opportunities for nature-based restoration for any fund developed.
Diana Whittington, Coordinator of Land and Catchment at Bass Coast Shire Council, praised our work, stating, "Great work on producing a high-quality and comprehensive report on carbon and biodiversity opportunities in Bass Coast Shire." She also commended our draft report for providing "an excellent and comprehensive review and analysis of the opportunities available in the Bass Coast Shire for the development and implementation of carbon sequestration projects that will deliver lasting environmental and some social benefits."
Through strategic planning and environmental expertise, EAS and HWL Ebsworth Lawyers provided a roadmap for future nature-based restoration projects, supporting the Council's drive towards carbon neutrality. Our work underscores our commitment to fostering sustainable practices and mitigating climate change impacts.