Supporting developing nations to gain access to results-based payments
As the world continues to grapple with climate change, actions that reduce emissions are vital to achieving emission reduction targets. Through collaboration between governments, organizations, and consulting firms like EAS, the development of clear and effective national monitoring systems and measurement, reporting and verification processes will be essential in demonstrating achievement of Paris Agreement Targets.
The World Bank, through its Forest Carbon Partnership Facility (FCPF), plays a crucial role in supporting developing nations to access results-based payments and in facilitating countries' ability to meet their Paris obligations through the development and/or maintenance of forests as carbon sinks. In this case study, we will explore our involvement in supporting countries like Fiji and Vanuatu in establishing their own policies, national forest monitoring systems and measurement, reporting and verification protocols relating to REDD+ and National Greenhouse Gas Inventories.
For the last decade, EAS has been actively involved in supporting the World Bank Forest Carbon Partnership Facility related to results-based payments resulting from reducing deforestation, forest degradation, sustainable management of forests and conservation (REDD+). This program has supported many countries to develop National Forest Monitoring Systems, measurement, reporting and verification processes (MRV), National mitigation strategies and action plans, as well as significant capacity building in developing countries.
Our support to nations such as Fiji and Vanuatu has been focused on the implementation and facilitation of technical solutions to support remotely sensed and ground data collation, processing and integration to estimate and report greenhouse gas emissions from the land sector through time. EAS has been instrumental in assisting these countries in setting up the necessary capacity and infrastructure to collect data, demonstrate emissions reductions, and ensure compliance with the World Bank's standards and verification processes.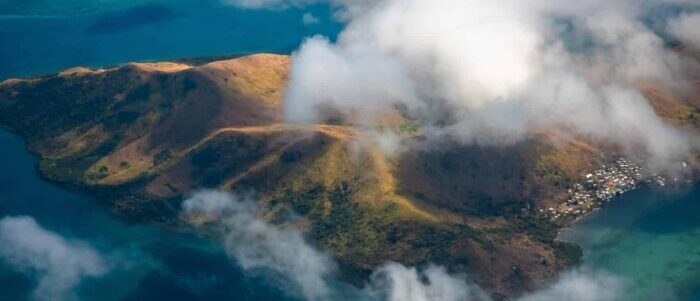 Once a National Forest Monitoring System and supporting MRV processes have been established for accessing results-based payments, countries need to align their efforts with their Nationally Determined Contributions (NDCs) outlined in the Paris Agreement. This alignment creates complexities, especially when considering whether countries should sell carbon credits overseas or retain them for their own emissions reduction efforts. EAS works closely with countries to help them navigate this decision-making process by providing guidance on:
Policy.

Good practice estimation methods.

Setting of appropriate baselines.

Ensuring the integrity of emissions reductions estimated.

Understanding how their forests contribute to their emission reduction targets.

Addressing issues of corresponding adjustments through the establishment of nesting guidelines aligned with national policy.

Writing terms of reference for contracted work and assessing the quality of consultants' outputs against the requirements.

Designing actions aligned with national objectives to reduce the drivers of deforestation and forest degradation
By getting this right, developing countries can receive results-based payments from the World Bank Carbon Partnership Facility and the Carbon Fund with these payments being available to fund activities aligned with national government policies and benefit sharing arrangements.
Nesting voluntary projects within national systems
To address the complexities associated with incorporating voluntary carbon markets within National Greenhouse Gas Inventory systems, EAS has been actively involved in developing nesting guidelines for National governments. The nesting guidelines play a crucial role in maintaining the integrity of National measurement and reporting systems, preventing double counting and ensuring transparent communication between the governments and private sector stakeholders. These guidelines clarify how offsets are treated within a jurisdiction and help build confidence among buyers and originators.
Double counting can happen when a country sells credits to an offshore entity and also adds the credits to its own account. For example, if a private sector investor in a voluntary carbon project has already sold its credits for a project to a private company making carbon-neutral claims, the country needs to ensure that those credits are taken off the National account if such activities are incorporated in their Paris targets and NDC so as not to compromise the integrity of the credits sold.
This regulatory space is still evolving globally and can create a lot of complexity and uncertainty for private investment. EAS assists countries in understanding and addressing this issue, building trust among governments and the private sector, and ensuring transparent communication between stakeholders.
Implementing nesting guidelines: challenges and benefits
Implementing nesting guidelines can be technically straightforward, but the complexity lies in effectively communicating and disseminating these guidelines to stakeholders. EAS provides extensive consulting to countries, focusing on accounting rules, capacity building, and upskilling. The trust between EAS and governments becomes paramount as the concept of nesting guidelines remains relatively new with limited examples to draw upon. Additionally, navigating the legal frameworks and complexities of land tenure in each country requires a sophisticated understanding of local cultures and customs.
Benefits of nesting guidelines: boosting private sector confidence
Countries that have successfully implemented nesting guidelines, such as Vanuatu, have signalled their commitment to originating high-quality offsets. This sends a strong message to the private sector that these countries are serious about investment in forest protection and restoration by having the necessary frameworks in place to create an enabling environment for private sector investment to play a vital role in reducing emissions from the land sector.
Looking ahead: improved land use planning and management
EAS's work with Fiji, Vanuatu, and other developing countries highlights the importance of proactive government engagement and the establishment of robust policies and monitoring systems to track and report emissions reductions from reducing emissions from deforestation and forest degradation with a high level of confidence and integrity. Developing sophisticated, multifunctional land use monitoring systems can strengthen their position in reporting to the United Nations, and enables them to actively participate in the global carbon market and attract investment.
Conclusion
The establishment of National Forest Monitoring Systems and associated Measurement, Reporting and Verification processes offers an opportunity for countries to demonstrate tangible progress in reducing greenhouse gas emissions. EAS's work with Pacific nations has been instrumental in creating new jobs, revenue streams and enabling them to take action in the fight against climate change. By ensuring the integrity of measurement and reporting of actions and providing a clear policy framework, these countries can attract private-sector investments and drive meaningful climate action. As carbon markets continue to evolve, the lessons learned from these experiences will inform the future expansion of these markets, ultimately contributing to a more sustainable and resilient world.